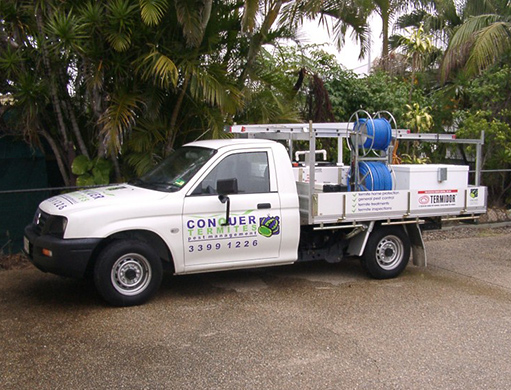 Conquer termites story
Conquer Termites has grown to be one of the largest privately-owned Pest Control companies in Queensland in less than two decades. This is an amazing accomplishment considering that South-East Queensland is the most competitive region for a Pest Control company. There are more licensed pest controllers in this area than in any other place in Australia.

So how did Conquer Termites become such a successful company?
It is really a story about good marketing, maintaining high standards, and, most importantly, gathering excellent people.
The Beginnings
Conquer Termites was founded by Rowan & Hiroko Bate in October 2004 as a one-person setup, operating from their home in Cannon Hill. Rowan stepped away from another company to fulfil a desire to run a Pest Control company in a certain way. He knew that not all homeowners were driven by price but a strong desire to deal with a company they could trust. Also, he realised many good individuals in the industry wanted to align themselves with an organisation with similar values and appreciated their contributions.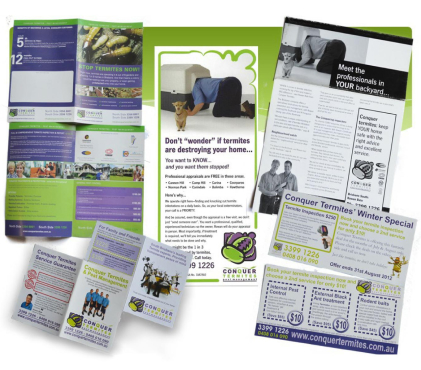 Like all newly established companies, the biggest challenge was to find customers. Back then, the main way to advertise your service was predominantly through the Yellow Pages, Quest newspapers, and flyers – paper jammed

in the letterbox. Remember, only 16% of households had an internet connection back then, and it was only dial-up.

Rowan originally started the marketing with a letter campaign. Back then, it was possible to purchase a CD with all households' names, addresses, and landline numbers.
So, thousands and thousands of letters were mail merged and posted out to homeowners in South Brisbane. Mail-merge then followed it up with a telemarketing call booked in a free termite check that possibly converted to an inspection and treatment. This method of marketing was challenging but bought results. To this day, we still have many original customers with us. We did progress on to other "printed" marketing material that underpins our brand today.
https://conquertermites.com.au/

Andy Henderson designed and guided the launch of our first website in September 2005. This was an exciting time as only a handful of other Brisbane Pest Control companies advertised this way.

We were able to rank organically on the first page on all content. The first website theme might appear to be a bit daggy now, but it was cutting edge and innovative back then. Not only did the good design and content accelerate sales, but the wider reach of the internet allowed us access to homeowners in Greater Brisbane and beyond.
On reflection, it was a good time to start a Pest Control company in 2004. Our competitors didn't adopt online marketing as quickly and many didn't see the value in the new non-repellent transfer product, Termidor.

Conquer Termites was one of the first companies to become accredited with BASF to apply Termidor. Along with Termidor's known strengths, BASF did extensive advertising directly to homeowners throughout Australia, making it synonymous with termite treatments.

While many of our competitors pooh-poohed Termidor for its price, Conquer realised its value in customer's perception, and we still do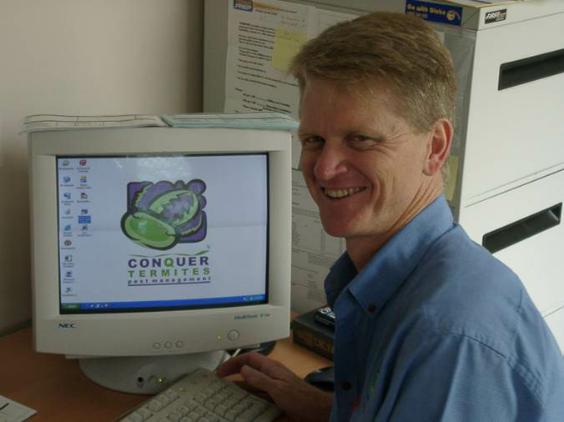 By a chance meeting when doing a treatment in February 2005, Rowan met Alan Ferguson over the fence. They had met before and quickly reacquainted. Recognising a good bloke, Rowan persuaded Alan to think of a career and the business opportunities in Conquer.

By October 2005, Alan was licensed and established the Brisbane North-side franchise.
Conquer's story is largely about the drive to be the best and innovative. Something that truly stamped Conquer's uniqueness was creating Australia's first digital termite reports and treatment proposals.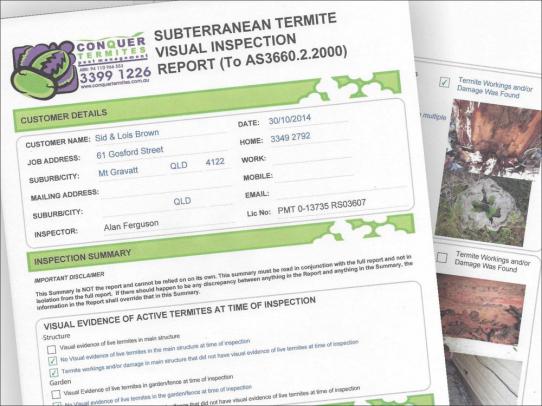 Back then, most termite inspectors used Rapid Solutions "tick & flick" carbon copy paperwork with no photos, and everything had to be handwritten. Then you had to snail mail it out to the customer.

The brilliant Rodney Phillips developed the first version of the pdf adobe driven software in 2006. This gave Conquer the ability to insert multiple photos, automated comments and stylise them to reflect the Conquer brand.

Conquer felt strongly that the report was a marketing tool as much as a technical document.
In Conquer's endeavours to enable the best outcomes, it invested in equipping all its Inspectors with Flir thermal imaging cameras in 2011. Though most of the termite activity is found initially with the visual inspection, the use of Thermal Cameras adds the extra ability to detect temperature anomalies. It also helped with the growing awareness with customers that this kind of device was the best practice.

Like the digital report, the use of Thermal Cameras is also a marketing tool.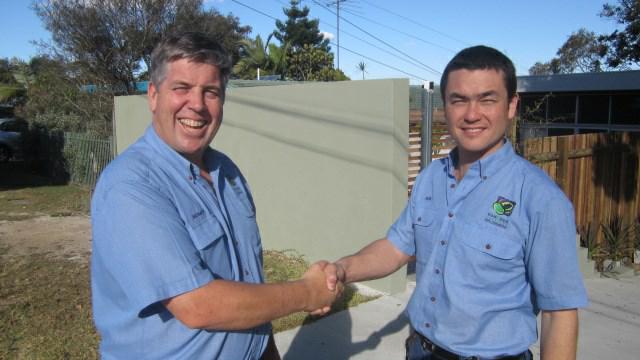 Nick started as a Trainee with Conquer in 2009 and quickly became a competent Technician. Drawing on his previous business experience and drive running a Lawnmowing business, he made the brave leap to take on the challenge of operating the South-Central franchise in September 2011.
In 2011, Conquer Termites made its first Facebook post about appearing on Channel Nine to be interviewed about termite problems facing homeowners in South-East Queensland. From then, we have understood it is a great tool to express our values and events.
Now we live in the age of Instagram and TikTok, so the wacky idea to make termite costumes and record a YouTube dance video does not seem so strange. Back in 2013, it was pioneering and creative.
Also, in 2013, two "information" videos were professionally produced. Conquer realised that visual demonstration of information was becoming a more desirable source for homeowners as they researched information on the best way to inspect and treat their homes for termites.

This has been validated, as Conquer's Inspection video is now the most-watched YouTube termite inspection video in Australia.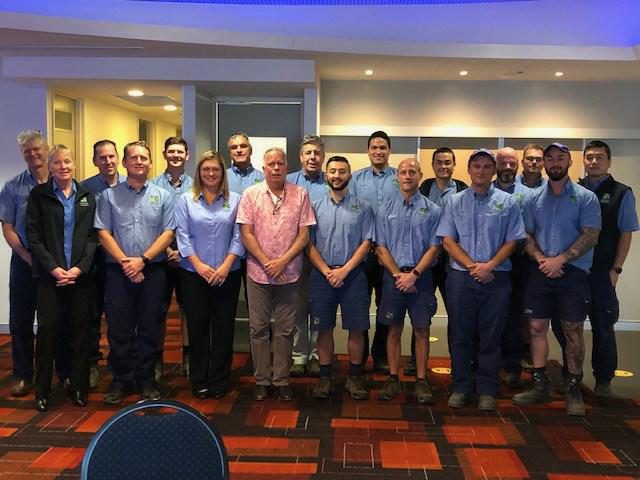 Conquer Termites prides itself on having the most trained technicians in Australia. To achieve this outcome, Conquer Termites started annual training seminars at the Colmslie Hotel in 2013.

Dr Don Ewart was the first expert to speak at our workshop seminar. Since then, we have had numerous guests speak to the Conquer crew about all things related to our industry.

We also continually train on the job, as we believe you can never stop learning. We regularly conduct in-house training with our industry suppliers and our technicians are all put through product accreditation courses.
Why wouldn't we equip our most valuable assets, our technicians, with the right knowledge to do the job to the best of their abilities?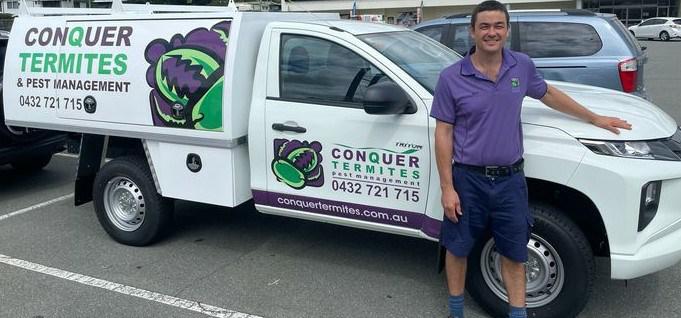 In 2013, Conquer took delivery of its first aluminium canopy from Austate Equipment. This was a completely new look. These were designed by Conquer to store a large amount of equipment used and to improve functionality. Plus, they act as a great mobile billboard.
What a game-changer ServiceM8 has been for Conquer Termites since we adopted it in 2014! Here is a Cloud-based app that combines our bookings, scheduling, invoicing, reporting, and client records. Allowing us to go paperless, communicate better with customers and make the technician's day easier.

A big leap forward in 2018 was the development of our inspection reports and treatment proposal in ServiceM8. Rather than using digital cameras and laptops, the technicians could use their iPhones and iPads while recording photos, making notes, and even the report. While we love catching up, this means that techs don't have to return to base to do field paperwork.
In an effort to lift standards and gain a uniform approach to how we do inspections, in 2018, we organised a house in Hawthorne to be inspected by all our technicians. Then we held a seminar to go over the variance in reporting.

The value and success of this exercise in highlighting deficiencies and confirming good practice has made it an annual feature of our training.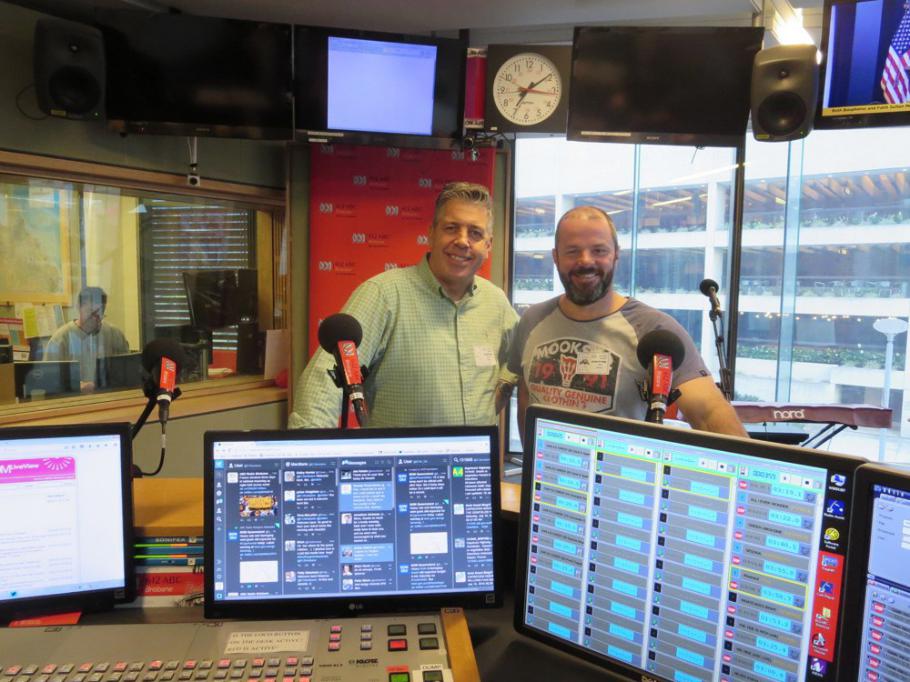 As a leader in our industry, we are asked by various media to discuss all things termites. Our first exposure on TV was in 2011 on Channel Seven News, then in 2012 on Channel Nine. In 2015, Conquer Termites was asked by the Queensland Institute of Architects to conduct a seminar about termite proofing options and the Building Code requirements.

Conquer Termites are regular guests on ABC 612 to discuss all things pest and take Listeners' calls.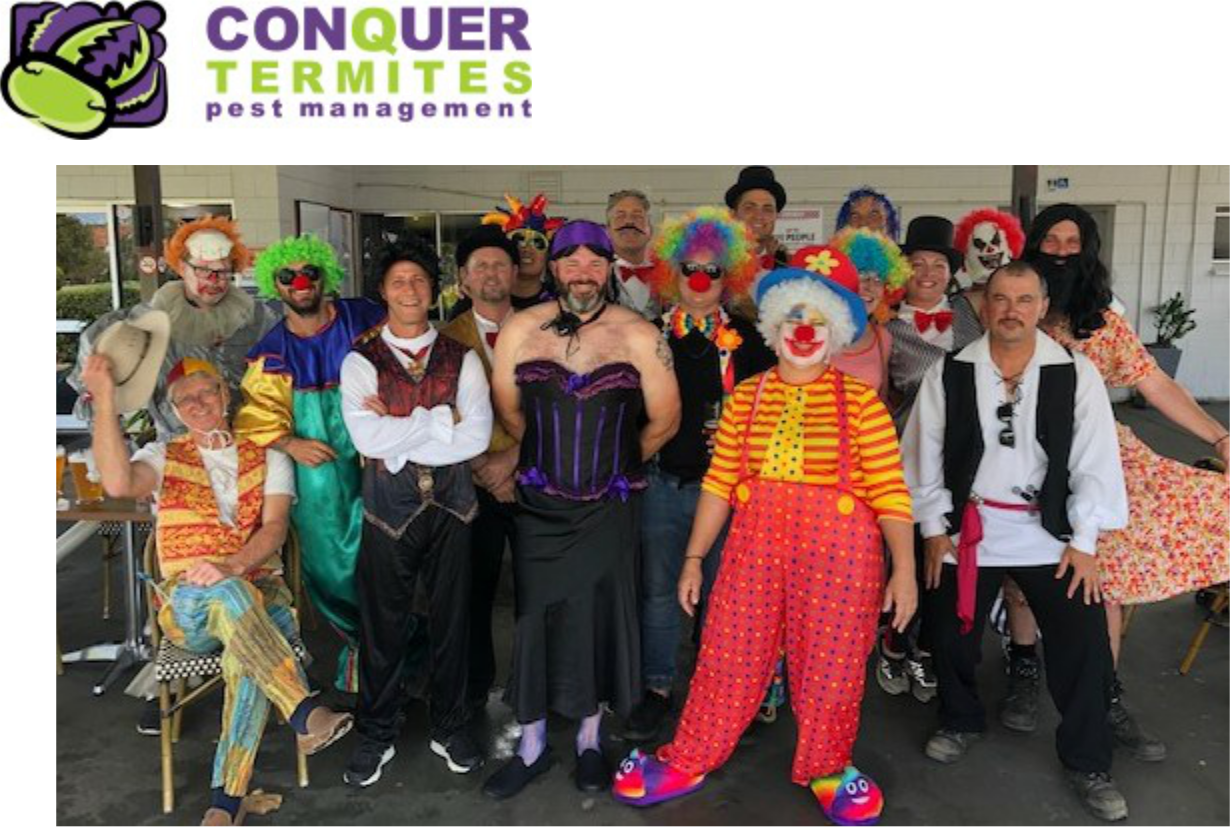 In the pursuit of fun and embarrassment, Conquer started the Annual Golf Challenge in 2011. It has morphed into a much-anticipated annual fancy dress event where the team goes around the Bulimba 9-Hole course in a very undirect line. There is even a trophy for the person who doesn't count well.
If someone were to ask why Conquer is doing so well, the best response to that question would be because it has great people.

You can demand high work standards, have great devices, good-looking utes, and slick marketing, but if the individuals don't buy into the way we do business, it just doesn't work.

So, who have been the people that have built Conquer Termites?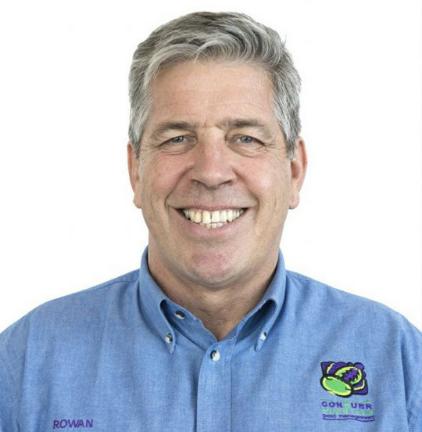 2004 Rowan Bate - Founder
After graduating from Auckland University (many years ago), Rowan was involved in the hospitality business in Japan and Queenstown, NZ. Since moving to Brisbane in 1994, Rowan has been involved in the pest control industry.

From his clear vision on how a company culture should be, Conquer Termites has grown to be what it is today.
2005 Alan Ferguson - North-side Franchise owner
As one of the first talented people to join Conquer Termites, Alan's caring and calm nature have helped nurture a great team on the Northside. He is such an unassuming character; you wouldn't know that his title is actually Dr. Ferguson! He graduated with a Ph.D. in Biochemistry, working for CSIRO for over 9 years as a research scientist.

Mad keen on hockey to the accomplishment of wearing the Green & Gold for Australia.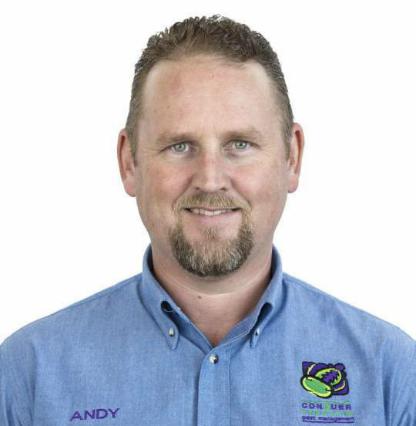 2008 Andy Clarkin
Rowan and Alan came across Andy when they shopped at the local safety shop in Morningside. Andy always had a helpful and friendly nature that they knew he would be perfect for dealing with homeowners. Alan actually put the question to Andy about making a career change when purchasing some safety gear. To Conquers' luck, Andy took up the challenge and has been the most enduring employee.
2009 Joel Mitchell
Joel applied for a position Rowan was advertising for the Southside, though he lived far North Brisbane. Rowan can clearly remember interviewing Joel in a coffee shop in Cannon Hill and instantly realising, here was a fabulous technician that had a real passion for his work. Without too much prompting, Alan realised this too and took Joel aboard.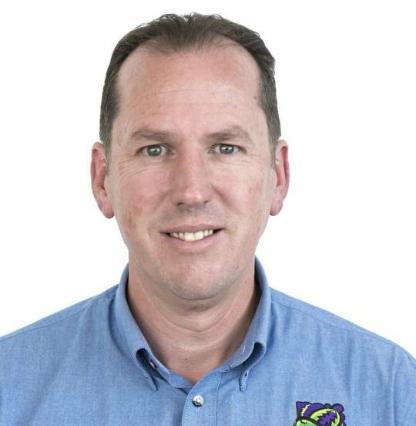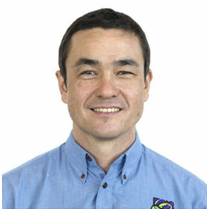 2009 Nick Wood
Nick's entrance into Conquer came from him deciding to get out of his Lawnmowing business and into pest control. Nick was calling around a few businesses to scope out the possibility of getting a leg-in. Luckily, Nick called Rowan, and a clever, hard-working personality came to join the team. In 2011, Nick purchased and started running his successful South-Central Brisbane franchise.
2012 Dan Kemp
Conquer Termites was so lucky to get Dan to join the South-side team. Dan had actually applied for a position the year before but ended up at another company (Fortuitously, this was a good thing - read Kuy's story). In 2012 Conquer was advertising again, and thank goodness, Dan reapplied. The great thing about Dan, he has vast experience but also the maturity and character to manage. Dan is now the South-side Manager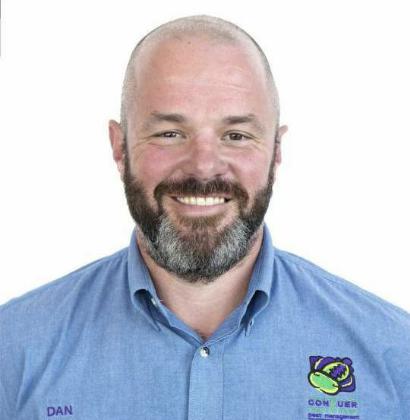 2014 Kuy Rider
As Conquer was growing, it was evident that we needed a more organised person to help run things. Dan kept mentioning that he knew a great lady the managed the previous company he worked for. So, contributing to the main reason Conquer Termites is a great company, another very dedicated and talented person joined the team. Kuy initially assisted with the South-side before taking on the big challenge of Managing the North-side operation.