Termidor® 2 million dollar warranty
Conquer Termites has been selected by the manufacturer of Termidor, BASF, to be accredited to offer homeowners the 2 Million Assurance Warranty – at no cost.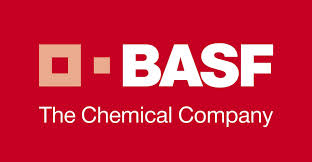 When you termite-proof your home with Australia's leading termiticide, Termidor, not only will you be reassured your assets is protected for 8 years but now you have the option to apply for a legitimate warranty that will give you a new level of confidence, security and peace of mind. The Assurance Warranty covers structural damage up to 2 million dollars if the chemical Termidor is proven to have failed. They know if it is applied correctly it just doesn't fail. It's just another example of the manufacturer of Termidor backing their product against inferior generic choices.
Assurance warranty benefits
Total peace of mind

Covers structural damage up to 2 million dollars

Termite protection that is not covered by regular home insurance

20+ Years of trust: leading industry innovation and performance

Ensures your Termidor application is authentic and not a generic copy

Regular inspections carried out by a trained, professional Accredited Termidor Applicator

Warranty certificate issued with each treatment*

Supported by BASF – the world's leading chemical company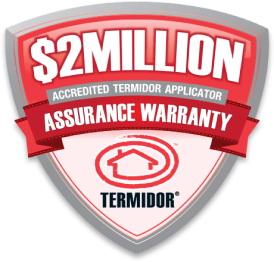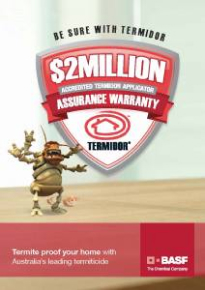 Warranty facts
Limit of warranty
The Termidor treatment MUST be applied by a Termidor Accredited Applicator (Pest Control Operator). The property owner will be supplied with a copy of the Certificate of Termiticide Application and Termidor Assurance Warranty Certificate.
Inspctions during warranty
Annual inspections are mandatory and MUST be performed by a licensed and insured Accredited Termidor Applicator.
Warranty period
Following each annual inspection, the warranty can be extended for another 12 months – upon satisfaction that ALL recommendations from inspection reports have been implemented.
Warranty coverage
The warranty covers termite damage ONLY – and ONLY when the Termidor application has been applied correctly.

The warranty is ONLY applicable when the homeowner carries out their timber pest inspection report responsibilities. (see Terms – Warranty Exclusions).

**Warranty MUST be submitted and approved via the online submission form.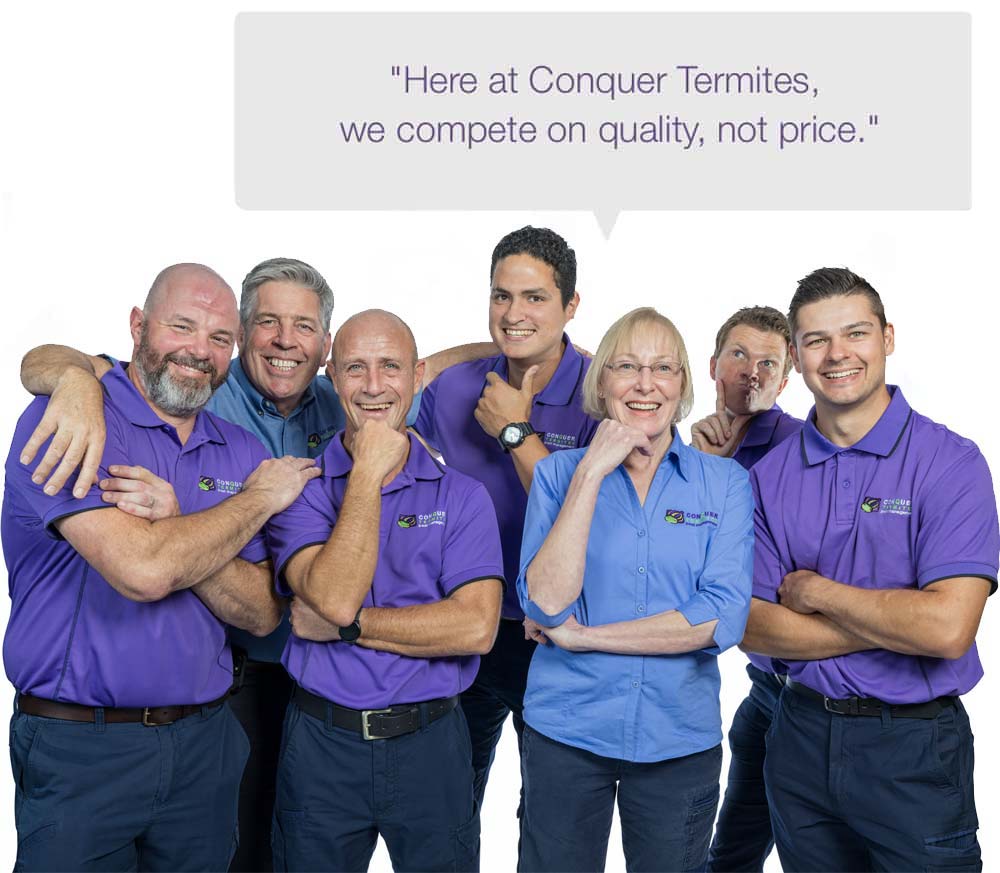 5 star service
We pride ourselves on delivering quality customer service and support. As a family owned and operated organisation we understand the importance of excellent service and customer care.
There is no such thing as a silly question - We strive to help