Back in 2011, we were called to a house in the North Brisbane suburb of Chermside West, where the home owners suspected that they had termites inside their home.
When we arrived at the job, we did, indeed find evidence of Schedorhinotermes - a very common termite species found in South East Queensland.
We do a lot of work in West Chermside and surrounding suburbs such as Chermside, Stafford, Bridgeman Downs, Stafford Heights and McDowall, and come across this timid species of termite frequently.
While they are known generally to create their nests outside of the home, they often make small sub-nests (called bivouacs) inside walls, sub-floors and roof voids.
We found evidence that the termites were coming up the bathroom wall and eating into the window frame.  Even when we can initially only see evidence of termites in one wall, it is vitally important in a good termite inspection, to know just how many areas have termite activity. The last thing you as a home owner wants from any Termite Inspection is for the termite technician to miss areas of infestation. So we turned to one of a Termite technician's most valuable tools - a Termatrac.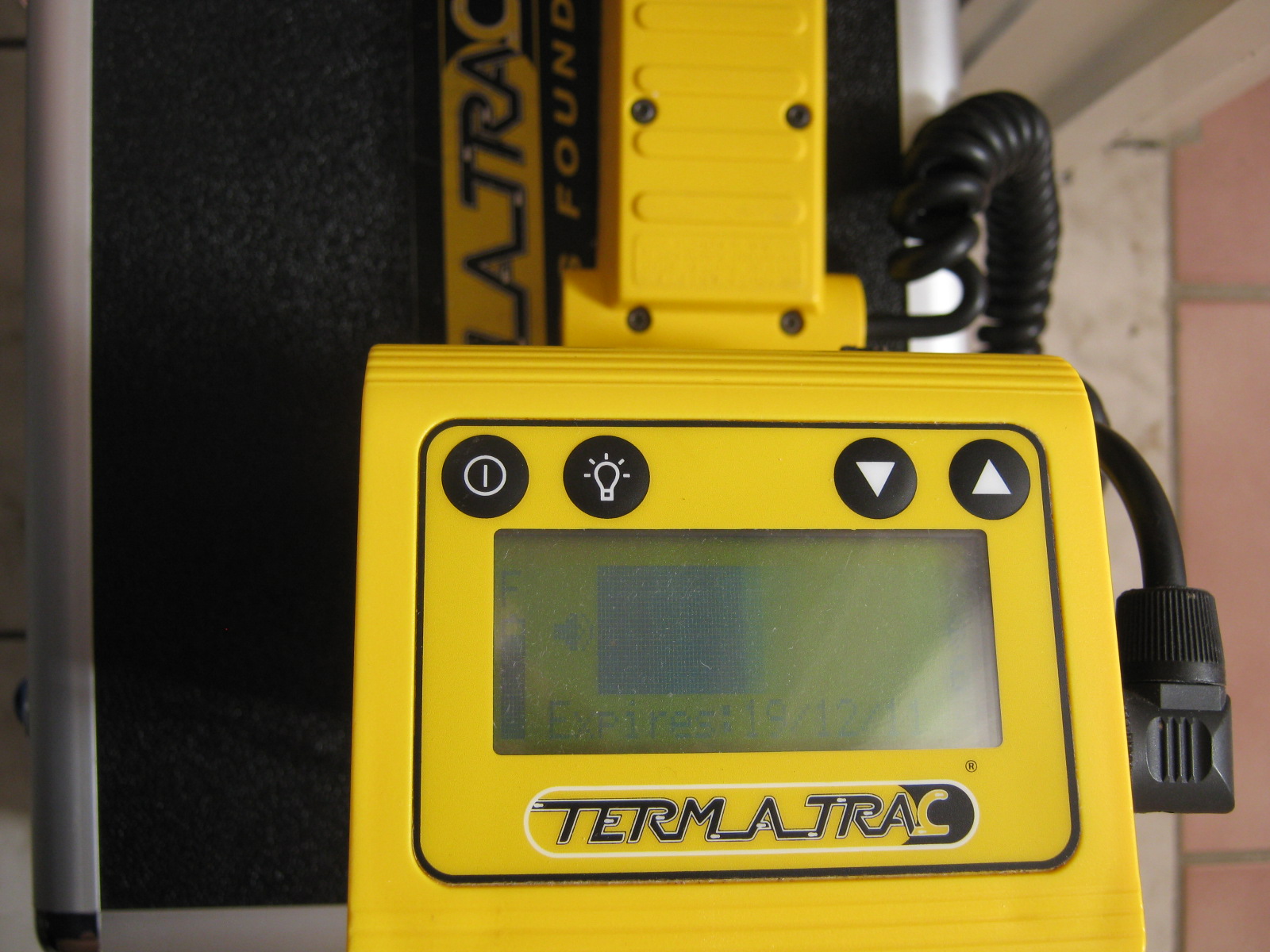 Termatrac uses microwave signals to detect movement
The Termatrac is a small yellow monitoring device that sends microwave signals into walls to detect movement. As tempting as it can be when you first suspect termites, it's not always the best idea to go in all guns-blazing and start tearing apart walls, trying to catch them out. A Termatrac is a reliable way to quickly and accurately detect movement without making them more skittish before we can treat them. The idea is that they will stay put so we can treat as many termites as possible.
When we used the Termatrac device in this West Chermside bathroom, we found that the termites were also inside the adjoining, internal walls of the structure. Using the Termatrac as we continued on with the termite inspection, we later also detected termites entering the house in the entertainment room, on the other side of the house! Once again, the Termatrac had done its job and helped us locate all of the termites in the property.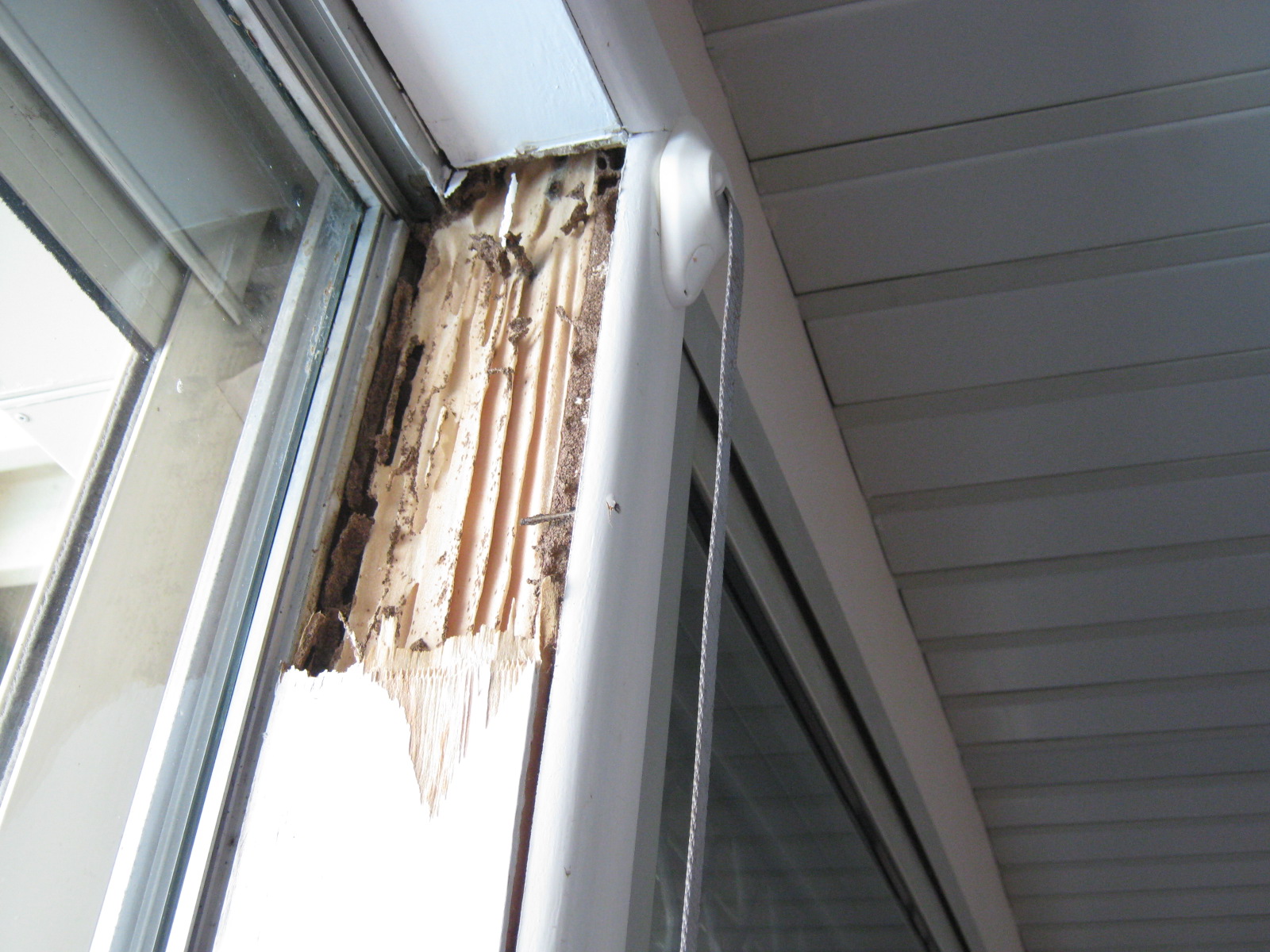 Termite Damage in Window Frame
All areas of activity were immediately treated with a foaming treatment using Termidor and our follow up inspection showed that all termite activity had ceased. The termites were done and dusted (or foamed as it may be).
We then installed a full chemical treatment using Termidor to prevent any re-entry.
Overall, we left this Chermside West home owner with an excellent result - a neat and tidy finish to the treated areas, and more importantly - no termites in their home. And with the TimberSecure Warranty, he can follow up with our yearly inspections to make sure his home remains termite free.
If you have a home in any of Brisbane's northern suburbs, from Chermside or North Lakes to Redcliffe, Chapel Hill and The Gap, be sure to call Alan, Andy or Joel from Conquer Termites North Side on 1300 417 007. There's a good chance that the Termatrac will form a part of your Termite Inspection.