Nothing really, but to describe a chemical treatment as a barrier is misleading.
A chemical treatment is usually achieved by applying liquid termiticide to the soil by trenching and continuously drilling and injecting around a structure. There is no "physical" impairment to stop termites from gaining concealed entry into a house. The action is entirely chemical in nature.
So when a Termite Technician says to you, they are going to install a "Barrier". Ask them how does it physically stop termites?
To get a bit Nerdy about it, the correct language should be, "I recommend installing a Termite Management System. The one I want to recommend for your home is a chemical treatment using a non-repellent transfer product".
A good company should be able to recommend an option that best suits the construction and conditions of your house.
Termite Management Systems:
CHEMICAL
Chemical treatment - liquid termiticide
Baiting & monitoring system
Sheeting material integrated with concrete slab at the time of construction - chemical in a non-soil matrix
PHYSICAL
Concrete slab to AS 2870 - an actual physical barrier
Stainless steel meshing - integrated with concrete slab at the time of construction - an actual physical barrier
Hard packing compound - typically applied in brick-cavity
Some Builders rely only on a "Visual Inspection Zone" to gain certification on new constructions. There should be a continuous vertical zone of 75mm from the top of the footing (slab) to the ground or landscaping (path or driveway) to achieve certification. This zone allows the homeowner to detect termite leads coming up the slab edge.
It's interesting to note that tin ant-capping is not a Termite Management System. It is just a point on detection to force termites to bridge so they do not gain concealed entry, and you can detect them visually.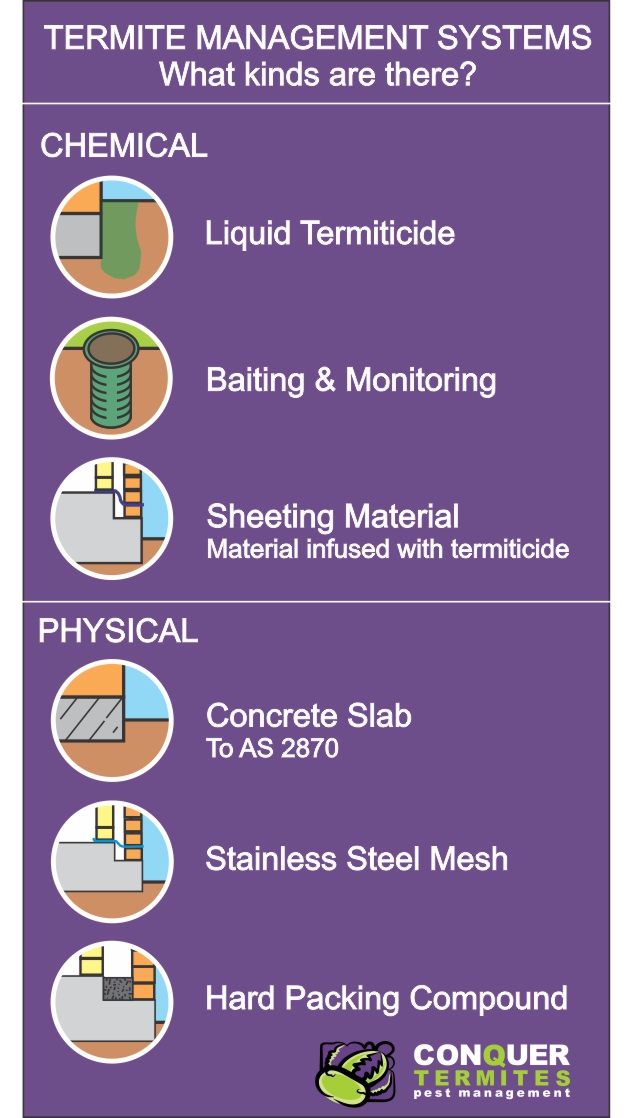 I hope this concise outline has made the terminology in our industry a bit clear. If you have a question, don't hesitate to call us on 1300 417 007