Termite inspection Brisbane & Gold Coast
Gain real peace of mind knowing your home will be checked for termites (white ants) by Brisbane's leading Pest Detection company. All our Technicians are licensed, fully qualified, experienced and equipped with all the detection devices, to conduct a comprehensive inspection of your home. Plus, with every report, we will provide you with safe and long-lasting treatment options.

We really know how to find these unwelcome visitors in and around your home – it's our passion!
Detection devices to find termites
There is not one device that definitively finds termites. A Thermal Camera doesn't see through walls! There is not a machine that pings and announces the existence of termites. It's a matter of collecting the information from several detection tools by an experienced Inspector to draw the conclusion that there might be termites. Only with visual confirmation can we confidently state there are termites in your home.
But as they say "pictures are better than words". Please watch the above video to understand how useful a thermal camera can be in detecting termites.
Thermal imaging
Thermal Imaging is the "must" have device to detect termites in your home. The technology of thermal imaging allows us to pick up variance in surface temperature which could suggest to an experienced inspector an area of termite activity. The Flir e50 cameras have the ability to detect thermal variance to <0.05 degrees celsius using a 320×240 pixel resolution. Conquer Termites embraces any legitimate technology that enables a more thorough inspection of your home. That is why we have made the investment to equip all of our Inspectors with a Flir Thermal Imaging camera. You can be reassured that when you get your home inspected by one of our professional and fully licensed inspectors, they'll turn up with a thermal camera that can really tell you what is happening.
With every inspection, a Tramex Moisture Meter is used. This enables our Inspectors to detect any high moisture content in the interior timbers. High moisture readings can indicate termite activity as they leave a moist trail and dampen their feeding front. Whenever we come across a situation in your home that has high moisture readings, we'll use our Termatrac monitoring devices.
The Termatrac motion detection device is a great tool to confirm if there are termites moving behind a wall or skirting board. If the Moisture Meter has high readings and there is a significant surface temperature anomaly reading from the Thermal Camera, the Termatrac device is a great way to confirm movement before recommending to be invasive to establish visual confirmation of termites.
Another great detection tool is the Borescope, allowing us to see inside cavities to confirm the presents of live termites. Normally, we can make a small hole in the wall lining and insert the probe to investigate. This kind of inspection is "invasive" and not within the scope of a Regular Visual Termite Inspection.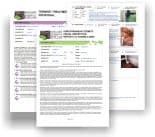 The Australian Standards 3660.2.2017 spells out how inspections should be conducted, but here we go beyond the Australian Standard minimum. At every inspection we set high standards achieving excellent results. We'll spend the "time it takes & more" to check your home and garden. You'll receive a comprehensive & understandable 24-page digital report that contains photos of your property to help you understand the outcomes. You'll receive this report on the same day by email. (This report is not a quick tick and flick type of report most of our competitors will offer you).